NOTE: this weblog is "retired". My current Motorcycling weblog is here.
My 'overall' weblog is here.
Introduction
I intend this blog to be a journal of my motorcycling (mis)adventures. I passed the MSF RiderCourse the weekend of October 4th, and bought a motorcycle the following weekend. I ended up with a '95 BMW K1100RS with only 6500 miles on the clock!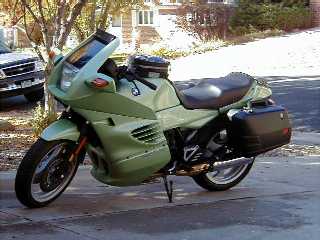 my baby
It's not exactly what I thought I would end up with, but of all the bikes I test drove, it spoke to me the most. It's really an excellent bike, and admittedly I'm too new to this to truly deserve/appreciate it. I hope to change that, in time.
Sometime I may get around to defining my own style for this site, as I have on my main site, samoht.com. But I've got to say that this blogger.com-supplied template is so good I'm not feeling pressed to change it! Thanks blogger!
Read on...
:::::::::::::::::::::::::::::::::::::::::::::::::::::::
:: Tuesday, February 04, 2003 ::
Well, my bud Steve finally made a sweet deal on a 2001 K1200RS. This, after having been nearly swindled in an internet deal for another K12 gone nightmarish. It was only "nearly" because he actually recouped his money, less bike shipping (a decent wad of cash, actually). His new ride is cherry (or "arrest me") red, which I never thought he'd "settle" for, but I'm sure it's a beauty.


:: Mike 8:48 PM [+] ::
...
:: Monday, February 03, 2003 ::
I did my first "canyon ride" last Sunday. I rode up Deer Creek Canyon (see, a canyon ride) over to Turkey Creek Road, then turned around and headed back down. I was fairly comfortable the whole time, although I felt like I was really pokey through some of the turns. One turn really caught me off guard -- it seemed to continue for 360 degrees. I did OK, but I definitely need more practice on this road. I will say, however, that the motorcycles that were behind me for most of the ride stayed a very respectable distance behind. I figure if I was really being pokey, they'd have passed me in no time.


:: Mike 9:17 PM [+] ::
...
:: Sunday, January 26, 2003 ::
Blessed with yet another day of incomparable riding weather, I headed out for a nice ride. But first, I'll quickly describe last week's ride. Last week I rode down to Sedalia and over to 105. I continued down 105 to Monument, turned around and headed home. At the turnaround point I hooked up (I use this term loosely, since these guys didn't really give me the time of day) in a parking lot with some other riders, all on replica-racers. I assumed they'd leave me in the dust as soon as we got in the open, but they didn't. I'm not bragging - I was really surprised. Maybe they were taking it easy on purpose, but I had to wonder, "why have a souped-up sportbike if you're going to ride as slow as an early-middle-aged BMW rider?"

The temps were in the 60's again today, so I "planned" a ride back down 105 with intentions of doing some exploring. I didn't plan, so much as I threw my GPS into the tank bag, and took off. There were tons of riders out. I think my left hand was off the handlebar a good 50% of the time, waving to other riders. Eventually, I caught up with a pair of riders who were going just a tad bit slower than I'd have gone normally. However, it was a nice day, and I decided to just play it cool, and hang back (a good plan for someone with my lack of experience).

Eventually, it hit me that the rider in front was most likely on a BMW. The rear rider, whom I calculated was a woman, was on a cruiser of some sort. When we stopped to turn toward Palmer Lake, I saw that she was also on a BMW - the R1200C. Anyway, in the spirit of adventure, I decided to just follow these two wherever they went.

We stayed on 105E, after monument, then turned north toward Franktown on 83. We probably averaged around 75mph on 83, which was wide and windy. Just as I started to worry about my gas, they pulled over at a gas station, so I pulled in, too. Turns out these two are husband and wife, the husband, Bob, on a new-looking R1150R, and Chris on the R1200C cruiser. We had a nice chat, and made over each other's machines. We parted ways at the station, they toward Elisabeth, and me toward I25, and home.

I'm noticing that I've gained a lot of confidence and handling skills on the motorcycle. That's nice, after my period of intimidation (not severe, but always there). Most of my "moves" feel pretty natural, and yet I've managed not to overextend myself and get into a scary situation. Things that used to freak me out a little now feel normal, and I push the envelope just a little more each time. I guess that's what it's all about.


:: Mike 7:21 PM [+] ::
...
:: Tuesday, January 14, 2003 ::
An "interesting" day today. First, on my ride to work, I turned onto Yosemite to discover they'd covered the road with some kind of slick schmutz, I suppose in preparation for the snow that's supposedly coming our way. It looked and felt pretty damn slick. How sadly ironic it is that the cure is as dangerous (for me) as the disease. On my way home, I started down my favorite curvy street only to discover that it to had been spritzed with this oily crap. I immediately got into a turn lane and made a very careful U-turn. I could feel how slick the surface was with my feet. I'd say quite a bit slicker than wet, but not as slick as snow or ice. Yikes!

The second interesting item is that I finally dropped my bike for the first time. I was trying (again - I gave up in frustration and fear on my first attempt some time ago) to get it up onto the centerstand on this "bike dolly" MB bought me for Christmas from Bob's BMW. Well, I'd followed Bob's advice and elevated the front wheel this time, to help me overcome the reduced leverage the presence of the dolly gave me. I got the bike up onto the dolly in one big bold move, but unfortunately, it got out of balance and fell on its right side right there in the garage (luckily it didn't hit MB's car on the way down).

I had to get MB to help me right the damn 600lb behemoth. There was a small puddle of what looked and smelled like fuel on the ground after we lifted it, but I couldn't see where it had come from. Luckily, there was very little damage that I've noticed, so far. The pre-existing scratches on that side are just a little more scratchy, and the mirror pod popped off, as designed. I did have to bend one of the snap thingies that to which the pod attaches back into place before the pod would go back, but that was pretty easy. I think having the hard cases on helped ease the blow.

So, if they'll take it back, the dolly is going back to Bob's. I figure it just doesn't offer enough real convenience for the risk involved in using it. I certainly don't want to drop the bike again. I feel like I got off easy this time, and don't want to push my luck.


:: Mike 8:16 PM [+] ::
...
:: Thursday, January 09, 2003 ::
My next motorcycle:


The Chrysler Tomahawk (Reuters)

At its top speed of 400 mph, I figure I could get to work in about, oh just a little less than a minute. Not bad.


:: Mike 9:49 PM [+] ::
...
:: Monday, January 06, 2003 ::
I got in a round-trip to Castle Rock and back Friday, the 3rd. I took Santa Fe on the outbound trip, and I-25 on the return trip (my first time on the highway). It took exactly one hour.


:: Mike 5:48 PM [+] ::
...
:: Sunday, December 29, 2002 ::
Test Rides

Since it neared 70 degrees yesterday (yes, in Denver, in December!), I got out for a spin. My spin somehow ended up at the BMW of Denver dealership, where I took a couple of "test rides". I made no secret of the fact that I wasn't really in the market for a new motorcycle, but BMW is great about giving test rides anyway. I rode an R1100S, and a K1200RS. Here are my quick impressions from the roughly 20-minute rides:

R1100S
The bike feels light. This one had a very "quick" clutch. It started engaging as soon as I considered letting the clutch out. I killed it at a stoplight. Anyway, typical (in my short experience) R-engine shakes at idle. Nice bubbly tone while excellerating. Obviously sporting seating position, up onto the tank with legs tucked more than on other Beemers. Great turn-in feel, and very confidence-inspiring. Accelerating is weird compared to my four cylinder - the bike seemed to accelerate faster than the engine sounded. Hard to describe. Vibration in footpegs is obvious. Liked it; wouldn't buy it.

K1200RS
I immediately felt at home. My legs felt better on this bike, at least at first. I love the high/wide bar. Clutch engagement pretty normal, compared to the RS. Took one spin around the parking lot and felt good. Once out on the street, I'm suddenly in love. Three word reviews: "Oh my God!", "I want one", "must have K1200RS". This thing is unbelievably shm-o-o-o-o-th and fast. It has 30 more horsies than my K11RS, and I can feel and appreciate every last one of them. I want to name them. The suspension is taut, the controls are well-located (except for the shifter, which is tough for me for some reason). Like the RS, very confidence-inspiring in the turns. Hard to ride slow. Unreal.

Postscript
OK, after that love-fest you'd think I'd feel cheated climbing back onto my newly-become old war-horse of a bike. Not true. Within 30 seconds of leaving the dealership on the Palmetto Pleasureship, I was perfectly happy. You see, my body has become one with the bike after only a couple of months of riding. My legs feel right, the shifter is just perfect, and I know exactly what to expect from the throttle and clutch. OK, so it doesn't corner like the telelever-equipped new bikes (at least I think that's what makes the difference), but the feel of those bikes was quickly forgotten as I eased back into my own Green Meanie. I guess it didn't hurt that I met up with some BMW Club guys just before I left, and they made a big deal of my bike. Thanks guys...


:: Mike 12:20 PM [+] ::
...