I couldn't decide whether to file this under /Computing/Mac, or /Motorcycling, so I put it under /Miscellany. I was doing a little referer_log surfing tonight, and happened across an interesting referral.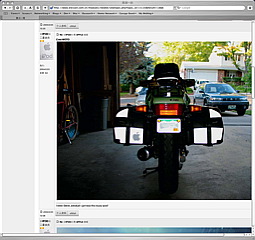 Photo of my Bike (with Apple logo) on Japanese site
From the context, the site looks like a collection of interesting appearances of the Apple logo. I'm honored to be one of them, even though they're stealing bandwidth from me.
This just in...
I seem to be quite the hot item in Japan. The cycling portion of my weblog is linked from
this Japanese weblog
.
Posted: Wed Feb 25 19:55:03 -0800 2004