I always liked the copy of OmniGraffle 2.x that came with my PowerMac. That is, I liked it fine, but I didn't love it. Well, today I needed to whip out some new graphics for a presentation I'm working on, so I shelled out the $79 for the OmniGraffle 3.x Pro upgrade. All I can say is wow.
They've done a lot to improve the program. I found it much easier than ever to make sweeping changes to a diagram. The program is very "active", meaning it gives feedback at all times, which is very cool. For example, if you're laying out boxes on a page, it pops up little guidelines as soon as a given box is in alignment with another box as you're dragging. Or, while you're dragging, it shows dimension lines that demonstrate whether you're centered, or equally spaced, with respect to other objects. Hard to describe, but very easy to use. Good stuff!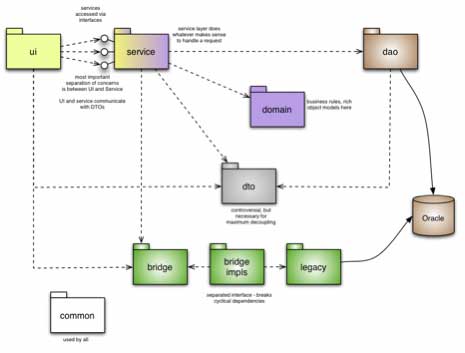 Physical Packaging Diagram, done with OmniGraffle 3.0 [PDF]
One disappointment is the continuing lack of high-quality stencils. While you can download "aftermarket" stencils from the extras area of the Omni Group site, it would be so much better if they'd just added the best of these to the product along with some additional, professionally designed, rather than making users bother with it. If Omni only did that, OmniGraffle would definitely be kicking some Visio butt.
Posted: Sat Oct 23 20:41:24 -0700 2004